https://www.gatestoneinstitute.org/12957/sweden-left-party-terrorism
Sweden: The Left Party's Ties to Terror Groups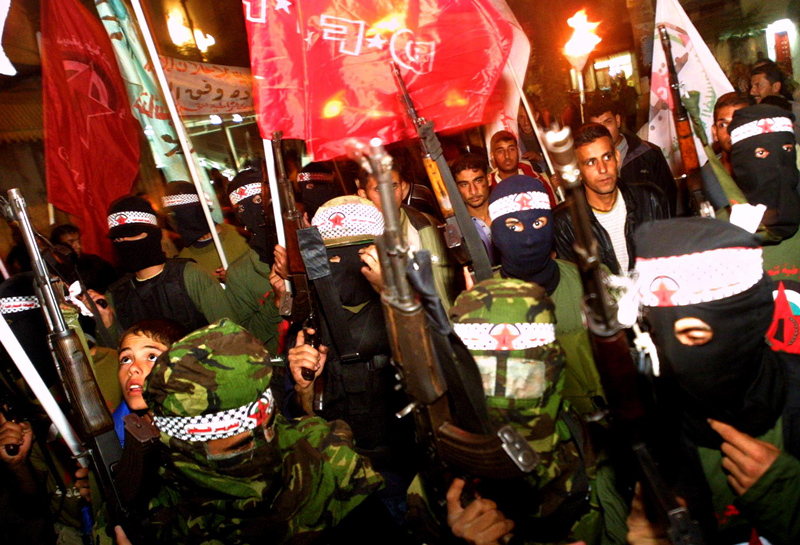 Members of the Democratic Front for the Liberation of Palestine (DFLP) in the Gaza Strip, November 15, 2003. (Photo by Abid Katib/Getty Images)
"Group 194 was also given an award by the municipality of Malmö at a gala it organized, and has received contributions from various municipalities in Sweden for several years, including Sundsvall and Landskrona, where the municipality has a close cooperation with Group 194. When Landskrona had its official summer party, one of its organizers was Group 194."
"Our path to unseat the occupation, dismember colonization, bring down 'The Deal of the Century' of a US Brand, and to provide our people with the possibilities of resistance and firmness in their struggle for their legitimate and inalienable national rights, is the path of the encompassing and coalitional common-goal national unity, it is the path of the unified and unifying national program, it is the path of the Intifada, resistance and the internationalization of the cause of Palestinian national rights."
Tobias Petersson is a Swedish freelance journalist.
https://www.gatestoneinstitute.org/about/
About Gatestone Institute
"Let us tenderly and kindly cherish, therefore, the means of knowledge. Let us dare to read, think, speak, and write."
— John Adams
Gatestone Institute, a non-partisan, not-for-profit international policy council and think tank is dedicated to educating the public about what the mainstream media fails to report in promoting:
Institutions of Democracy and the Rule of Law;
Human Rights
A free and strong economy
A military capable of ensuring peace at home and in the free world
Energy independence
Ensuring the public stay informed of threats to our individual liberty, sovereignty and free speech.
Gatestone Institute conducts national and international conferences, briefings and events for its members and others, with world leaders, journalists and experts -- analyzing, strategizing, and keeping them informed on current issues, and where possible recommending solutions.
Gatestone Institute will be publishing books, and continues to publish an online daily report,
www.gatestoneinstitute.org
, that features topics such as military and diplomatic threats to the United States and our allies; events in the Middle East and their possible consequences, and the transparency and accountability of international organizations.
Gatestone Institute is funded by private donors and foundations. We are grateful for your support. Gatestone Institute is a 501(c)3 not-for-profit organization, Federal Tax ID #454724565.
Nina Rosenwald, President
Naomi H. Perlman, Vice President