To read the entire item, kindly click on this link:
https://www.breitbart.com/london/2018/09/27/sweden-sexist-breach-advertising-meme/
Sweden Rules 'Distracted Boyfriend' Meme 'Sexist' Breach of Advertising Rules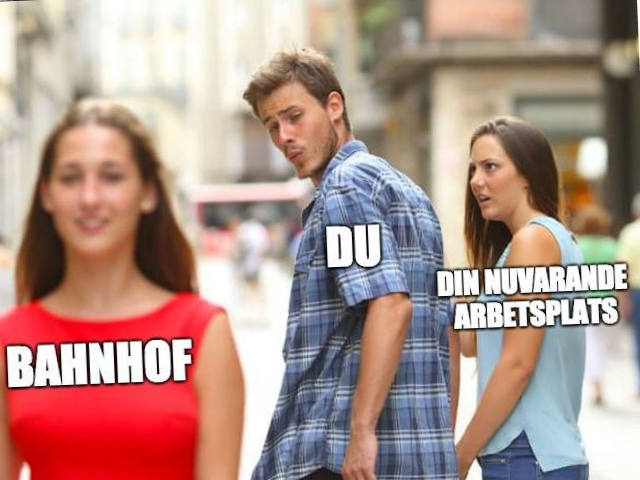 Sweden's advertising watchdog has ruled that a Stockholm internet company's use of the 'distracted boyfriend meme' in a recruitment ad was sexist.
The Advertising Ombudsman said internet service provider (ISP) Bahnhof 's inclusion of the now-famous image — which shows a man turning away from his girlfriend to admire another woman — in a jobs vacancy advert, suggested women were "interchangeable in the same way as a change of workplace".
In Facebook and Instagram posts, the Stockholm-based company had shown the boyfriend turning away from "your current workplace" to stare at "Bahnhof", alongside a message advertising sales jobs and vacancies for operating engineers and web designers.
"The purpose was to illustrate that Bahnhof is an attractive employer and that persons who have a somewhat-less attractive employer could be interested in us," the ISP company said in a statement
posted
to its website Tuesday.
But the ombudsman's opinion committee unanimously ruled the jobs posting to be "gender-discriminatory" and in breach of International Chamber of Commerce anti-sexism regulations against portraying "stereotypical" gender roles or individuals as "sex objects".
All members of the review panel reportedly agreed the advert objectifies women, asserting that it portrays females as "interchangeable objects", the only interesting feature of which is their appearance.
A number of committee members also warned of it highlighting "stereotypical gender roles" including that it gives the impression "that men can change their partners in the same way they would change jobs",
according to
the ruling.
...