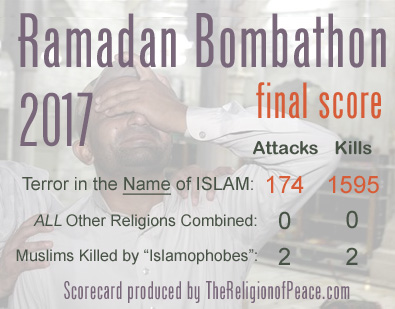 Are all religions really the same?
Is "Islamophobia" a bigger problem than Islamic terror?
Is it really even a "phobia"... or is Islam genuinely different?
Let's find out. Let's keep score during Islam's holiest month.
(June 17th note) It's the final week of Bombathon and there
has not yet been a single incidence of a Muslim killed by an
"Islamophobe," or any deadly attack committed explicitly in the name
of a religion other than Islam since Ramadan began on May 26th...
to our knowledge. If we are wrong, then please let us know.
https://www.thereligionofpeace.com/
TheReligionofPeace
TROP is a non-partisan, fact-based site which examines the ideological threat that Islam poses to human dignity and freedom.