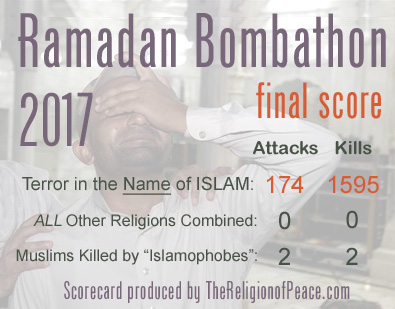 Are all religions really the same?
Is "Islamophobia" a bigger problem than Islamic terror?
Is it really even a "phobia"... or is Islam genuinely different?
Let's find out. Let's keep score during Islam's holiest month.
(June 17th note) During this final week of Bombathon,
we are still looking for the first incidence of a Muslim killed by an "Islamophobe" or any deadly attack committed explicitly in the name
of a religion other than Islam since Ramadan began on May 26th.
https://www.thereligionofpeace.com/
TheReligionofPeace
TROP is a non-partisan, fact-based site which examines the ideological threat that Islam poses to human dignity and freedom.